September weddings can be some of the best in Cyprus. Blue skies are guaranteed, warm temperatures promise a great experience for your guests, but the intensity of the high summer heat is starting to fade. Sunsets arrive a little earlier, making for breath-taking golden hour photos. And as night falls, the party lights up – we capture it all as your Anassa Hotel Cyprus wedding photographer.
Today, we're super stoked to take you through a September wedding in Cyprus moment by moment, featuring the super fun Carly and Jack, who tied the knot at the Anassa Hotel last year.
All set for Cyprus
A 10-year love story and Christmas day proposal led Carly and Jack to Cyprus's sunny shores.
"We knew we wanted to get married abroad but weren't sure on where. The first place we looked was Portugal, but we couldn't find the right place for us," Carly explains.
"Then we looked at Cyprus – we attended a wedding in Cyprus seven years ago and loved it. We looked at the top venues in Cyprus and came across the Anassa Hotel… It exceeded all expectations."

Finding the one
"Like most brides, the dress was the first thing I looked up when Jack proposed. By the end of Christmas day my Pinterest board was packed! I found there was a certain style I was drawn to. I then found designers that created this style."
"Cheryl at Ann Louise Bridal was great. Her shop had so many Enzoani styles, so I narrowed it down to two. The deciding factor was my dress fabric was lighter, which I had to consider with the heat in Cyprus. I wore the Nurit dress by Enzoani." Carly smiles.
The groom, on the other hand, opted for a more last minute approach, buying his navy suit with only a month to go.
Here come the girls
The bride's two best friends and daughter accompanied her down the aisle, wearing multiway dresses from In One Clothing.
"They were perfect for the ladies' individual styles and body shape and light enough fabric for the Cyprus heat."

The big moment
Carly and Jack tied the knot in a heartfelt ceremony, shared with family and friends. As their Anassa Hotel Cyprus wedding photographer, we captured every fleeting glance, every squeeze of the hands, and the kiss that marked the moment their lives entwined forever.
"My daughter read 'Our Advice' during the ceremony, which was one of my favourite moments," reminisces Carly.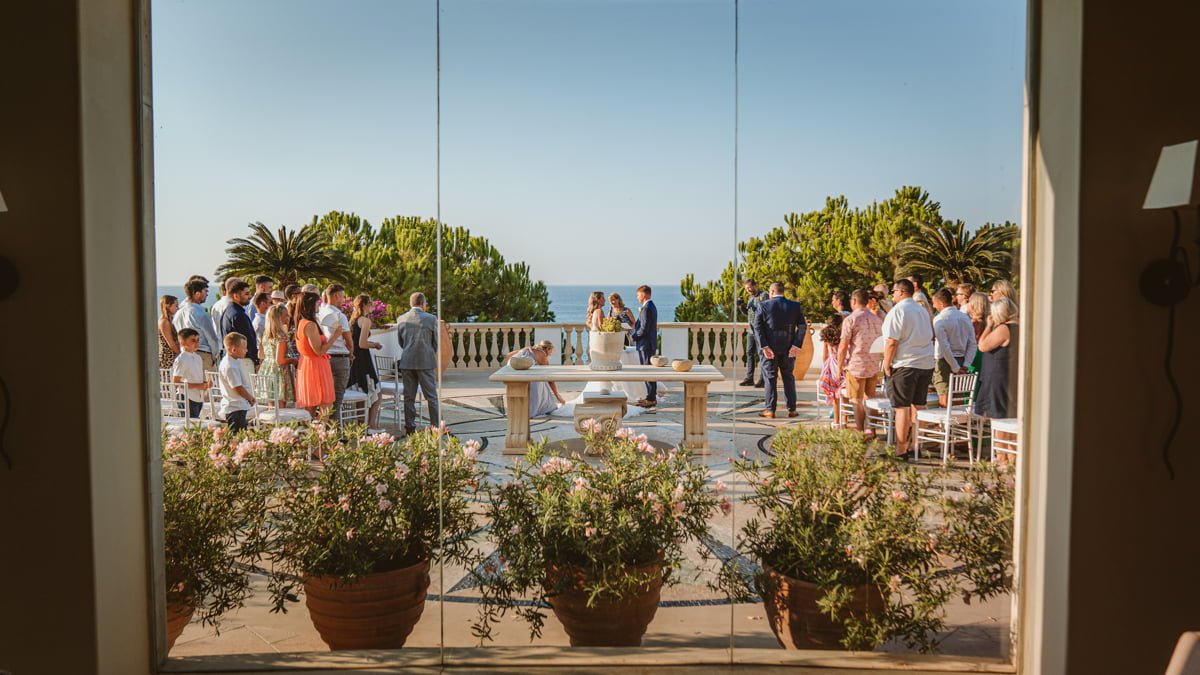 Party time
As ceremony turned to celebrating, the couple and their guests were in for a gourmet treat. As a top Anassa Hotel Cyprus wedding photographer, we can't rate the experience highly enough. We've seen them delight couples and guests time and again. And what more do you want than an awesome time with the people you love on your wedding day?
"We opted for roasted lobster and scallop ravioli followed by sorbet, then grilled fillet of beef," adds the bride. "To finish, we chose warm vairhona bitter chocolate tart. Our guests raved about the food for ages after – it still comes up in conversation now!"
"Our Anassa Hotel Cyprus wedding photographer Nick and venue planner Dora helped us pick the entertainment. Dora suggested DJ Alexi because I particularly didn't want a chatty DJ or a string of your classic wedding songs. Nick highly rated him and he was right, Alexi was great and had people dancing all night."
Choosing their Anassa Hotel Cyprus wedding photographer
"Once we had decided on the venue, I asked Dora, our wedding planner, if she had any photographers she recommended. She sent us three, one being Beziique."
"I knew from the first review of all three portfolios that Beziique were the ones I wanted. Their photos were stunning and they all looked effortless, I'm not a big fan of "posey" photos and their range of natural, "we didn't even know you were taking that" type photos were amazing."

Words of wisdom
"If there is anything you need to cut back on, do not let it be your Anassa Hotel Cyprus wedding photographer. We had the most wonderful day but there are bits of it I don't remember well from all the excitement, so having beautiful photos to look back on keeps the memories alive."
"I love the group photo of everyone cheering as Jack and I kissed. The one of my daughter posing as we got ready. The one of Jack and I kissing on the terrace just as the sun started to set…"
After the wedding, Carly and Jack continued the celebrations at Anassa Hotel, upgrading to an infinity pool suite for their honeymoon.
If a sun-kissed wedding in a breath-taking setting sounds perfect for your Cyprus wedding dream too, then let us know! We can't wait to rock it as your Anassa Hotel Cyprus wedding photographer and give you every awesome moment to remember.
Anassa Hotel Wedding Suppliers
Anassa Hotel wedding photographer: Beziique
Venue: Anassa Hotel, Cyprus
Dress: Enzoani at Ann Louise Bridal, London
Bridesmaids: In One Clothing
Hair: Claire Blundell
Décor, Catering & Cake: Anassa Hotel
Entertainment: DJ Alexi
Planner: Dora Demetriou