Liopetro has to be one of our favourite venues to photograph as Kouklia wedding photographers in Cyprus. The lush open-air ceremony set up, the rustic stone backdrops and the dramatic desert-like landscapes beyond…  This venue nails natural beauty. And with huge skies for the softest sunsets, it only gets better as the celebrations go on.
Needless to say, when Charlene and Ben asked us to be their creative Liopetro wedding photographer, the only answer was yes! Now, we are super excited to share the stunning details of their Cyprus wedding with you. Enjoy!
Sights set on Cyprus
After a romantic proposal in New York City, it won't come as a surprise that this couple chose to tie the knot overseas too.
"We decided to get married in Cyprus as we always knew we wanted a destination wedding, having been to both of Ben's brothers' weddings abroad. The thought of being on holiday with all our friends and family would be a dream come true," explains Charlene.
"We chose Cyprus as it is a holiday destination we frequent every year. We absolutely love everything about Cyprus – the food, culture, climate and scenery are just stunning."
Liopetro love story
The bride added the finishing touches to her look in the bridal suite at the venue, giving us the opportunity to capture all the finer details as their Kouklia wedding photographer. Groom Ben prepared for the big moment at the Avanti Hotel close by, before heading to Liopetro too.
Aisle style
"I wore an ivory illusion gown covered in beading and floral applique by Milla Nova with detachable tulle over-skirt," smiles Charlene.
"Ben wore a two piece suit in a steel blue with an ivory tie. He had no jacket due to the heat and to fit our relaxed style wedding."
Ceremony in the sun
"Seeing Charlene walk down the aisle in her dress was my favourite part of the ceremony," reminisces Ben.
"I loved seeing our family and friends seated in the white ruffled chairs and walking down the aisle with my dad to Meg Birch's cover of 'Your Song'. I will never forget it," Charlene gushes.
You could certainly feel the love and energy pouring off this couple. Capturing their happy vibes, we covered every angle of their ceremony as their creative Kouklia wedding photographer, from exchanging rings to their cheers in the confetti photo.
Rustic romance
Our passion as creative Liopetro wedding photographers means we celebrate every detail of your wedding, from the moments you embrace your family and friends, to the gorgeous décor and flowers you spent months musing over.
"Our overall theme was rustic glamour with pinks, greens and gold. Our top table was set beneath a wooden frame covered in greenery and white wisteria blooms. We also had glass votives suspended in the mix – it was so pretty."
A romantic wooden swing and oversized timber letters with fireworks tucked on top for a surprise during their first dance completed the ultra romantic, relaxed rustic style.
Superstar planners Marry Me Cyprus worked with the Liopetro team to pull off this gorgeous Cyprus wedding.
"Put your trust in your planners as they are the experts and have you covered," encourages the bride. "Although we trusted Katie and the team at Marry Me Cyprus, we didn't fully appreciate how amazing they are at their jobs until the day arrived and everything went without a hitch!"
Gourmet grazing
In keeping with the couple's laid-back celebrations, guests enjoyed ice cream after the ceremony in place of canapes, while a saxophonist created an awesome musical vibe.
"For the main dinner, we chose the live BBQ buffet menu. It was a mixture of grilled meat, halloumi and fish accompanied with salad, pasta, bread and other cooked dishes – jacket potatoes, aubergine parmigiana and more."
"I cannot even begin to describe how amazing the food was! There was also a dessert buffet – crepe suzette, chocolate mousse, mini donuts, fresh fruit, strawberry gateau."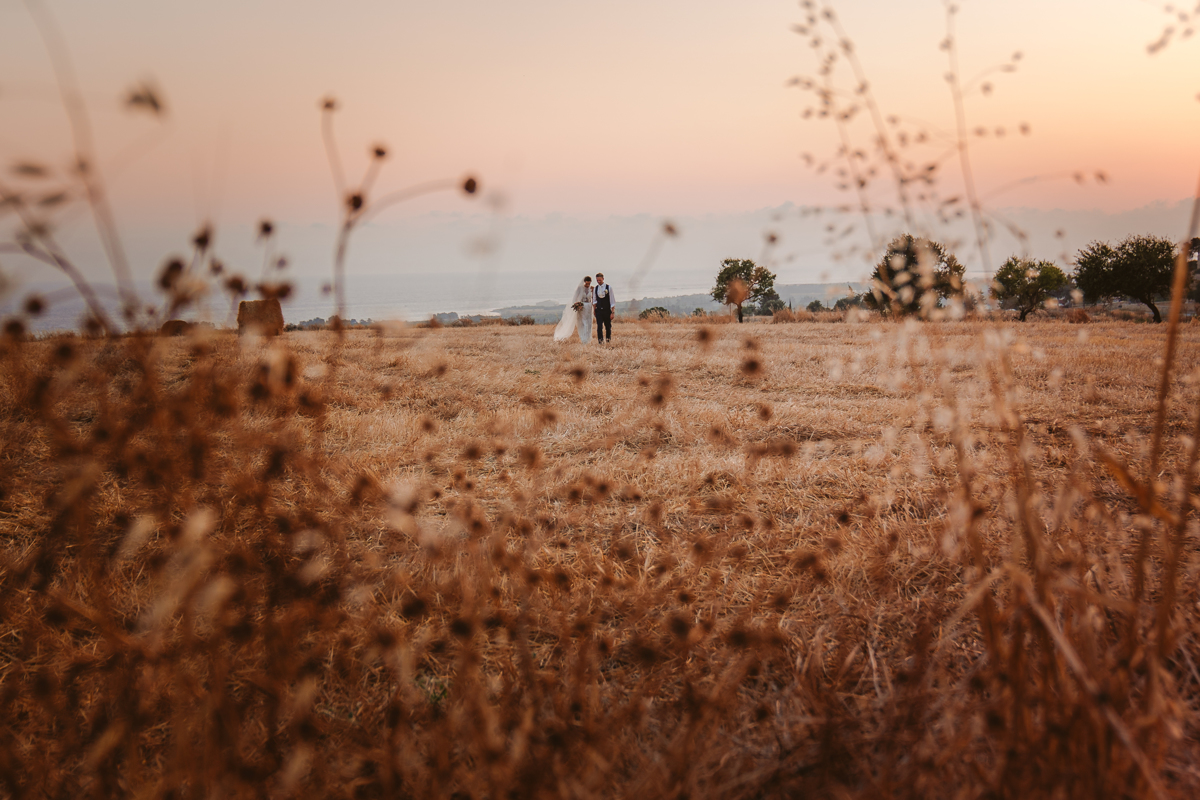 Choosing their Kouklia wedding photographer
We always love to ask our couples how they found us as their Cyprus wedding photographer and Charlene and Ben were no different.
"Our planner Katie at Marry Me Cyprus recommended Nick and Aimie to us. After looking at their work online we knew we had to book them for our wedding!"
Could you be our next couple to capture jaw-dropping memories with? Get in touch and tell us about your destination wedding plans.
Ben & Charlene – Highlights from Island Films on Vimeo.
Liopetro Wedding Vendors
Venue: Liopetro 
Dress: Milla Nova
Suit: Anthony's Formalwear
Bridesmaids: The Bridesmaid Boutique
Hair: Mark Anthony Hobbs
Makeup: Artemis Papadopoullou
Flowers: Island Rose
Décor & Planning: Marry Me Cyprus
Catering: Liopetro
Entertainment: Zack Evangelou (Sax) and Gavin Risely (DJ)