Nicola and Joel asked us to be their Liopetro Cyprus wedding photographer and we couldn't wait for the big day to arrive! The dramatic deserts, stone arches and incredible outdoor spaces had us hooked. On the day, this epic venue certainly didn't disappoint, as Nicola and Joel tell us…

A proposal in Portugal
Nicola and Joel knew they'd found the one after over six years together, but for this bride the proposal still came as a surprise.
"We were having a short break in Portugal. My parents were set to join us the next day and Joel's parents were on a cruise that would be docking nearby too."
"The night before they arrived, we'd had a beautiful meal and were walking along the harbour when Joel got down on one knee and asked me to marry him. It was perfect! We spent the night celebrating, then had the excitement of telling our parents when they arrived later in the week," Nicola smiles.



Destination dreams
As this couple's engagement would suggest, they're both big fans of travel so a destination wedding was instantly on the cards.
"After a short time researching, we chose a destination wedding in Cyprus. It was a popular wedding destination and looked pretty easy to organise so the decision was made: Paphos it was!"
But, unlike many couples, Nicola and Joel didn't want to hold their wedding in the same place they'd stay all week. "It just didn't feel too special to get married where I'd be staying for 10 days," Nicola explains.
"That's when I came across Liopetro and fell in love! The venue looked like somewhere you'd see in magazines and I was over the moon when they were available on our chosen date, which was the date we first met!"
"The first time I spoke to Liopetro Venue, they recommended Nick and Aimie for our Liopetro Cyprus wedding photographer and I'm so glad they did. A quick scan of their website was all it took for us to get them booked!"









Aisle attire
Taking long-standing advice for a destination wedding in Cyprus, this bride began her dress hunt focussing on lighter weight styles.
"I was looking for a summery dress perfect for the 30-degree heat. Oh, how wrong I was! After trying on numerous dresses, only one style stood out and I used that to find the right dress… eventually!"
Nicola looked stunning in a modern and understated Ronald Joyce A-line design with a pleated, pocketed skirt and low back.
"It was much heavier than I had ever planned, but I loved it!"
Joel opted for a two-piece, slim-fit blue suit and teamed it with a short-sleeved shirt and brown brogues.
With charming grounds and elegant dressing room mirrors, capturing the couple's morning preparations as their Liopetro Cyprus wedding photographer was a breeze.





The big moment
Nicola and her wedding party had a stunning walk from where they'd prepared in the morning to their ceremony location. Passing golden stone walls and dappled sunshine, it was ideal for capturing naturally stunning bridal party pictures.
"The intimacy of our ceremomy was perfect. It felt like we were the only couple to ever have got married there! Seeing our guests waiting for me to arrive was surreal and then I saw Joel for the first time. He cried… a lot! It was such a special moment for us."
The couple chose an alfresco ceremony for their destination wedding in Cyprus, saying I do beneath a canopy of airy drapes and wow-factor floral installations. This stunning set-up is one of our favourite things about being a Liopetro Cyprus wedding photographer.
Romantically rustic
Selecting a neutral palette with a touch of romance, this couple decorated in tones of cream, white and dusky pink.
"I wanted the venue to be decorated primarily with flowers, especially roses. We had floral centrepieces for each table, which were named after places we'd visited. The florist was fantastic, I hadn't seen flower decorations quite like what she created for us!"







Informal feasting
Channelling the laid-back local culture for their destination wedding in Cyprus, Nicola and Joel created a mouth-watering menu for a live buffet at Liopetro.
"I wanted a relaxed atmosphere and not a set meal and that is exactly what our venue created. The food tasted beautiful and featured a great variety of dishes. As food lovers, we were not disappointed!"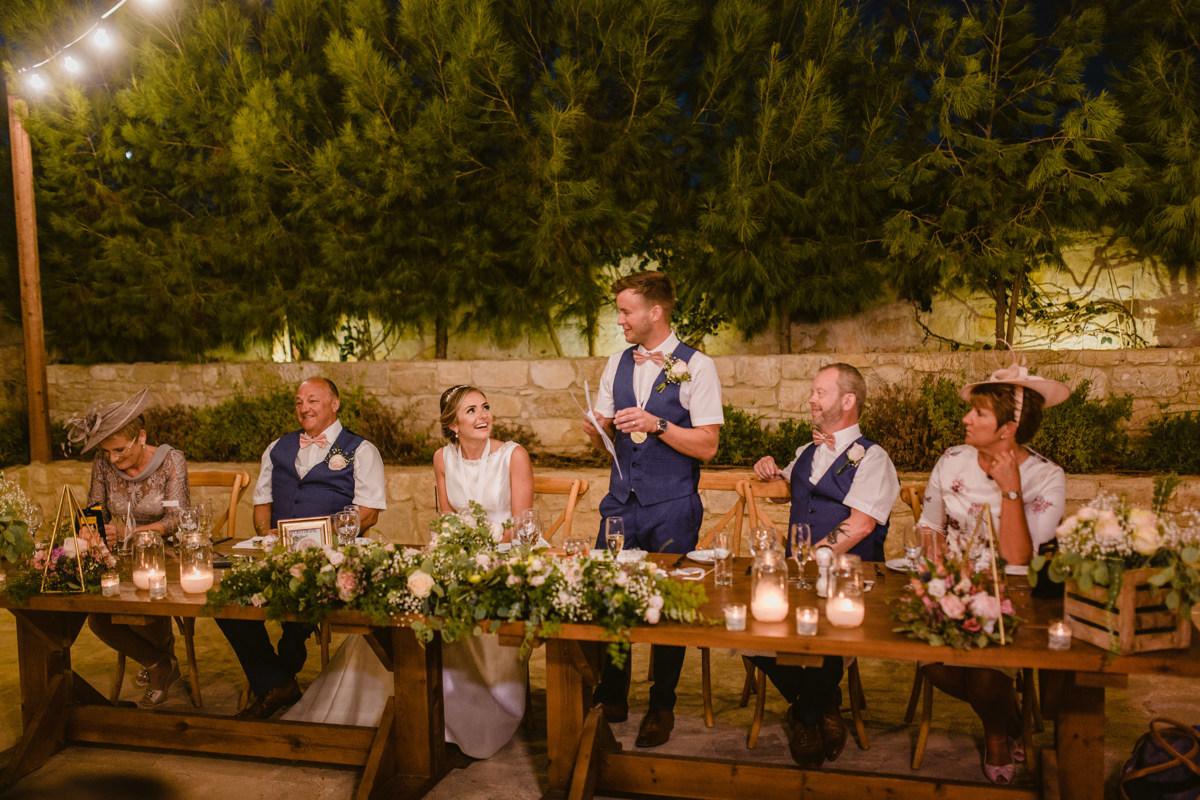 Party time!
Nicola and Joel's wedding entertainment was certainly unique and perfectly personal, but we'll let them tell you why:
"My brother-in-law is the singer behind Jordan Brown Acoustic, so we were lucky to have him sing our first dance and a set of our favourite songs. It was beautiful and meant so much to us."
"The photos Nick and Aimie captured of us dancing and our guests all looking on in the same picture is one of our favourites."
Following the romance of the live music was a party that filled the dance floor, featuring a disco and Cypriot dancers before the grand finale of a fireworks display.
"It was great entertainment and we danced all night," they reminisce.


Sundown style
"We have so many favourite photos but the ones taken at sunset have to be my favourite," Nicola reveals. "I can't believe Nick and Aimie managed to make us look so glamorous!" It's safe to say that we love the images we captured as their Liopetro Cyprus wedding photographer just as much.



Words of wisdom
When it comes to planning a destination wedding in Cyprus, Nicola has a tip to make sure it's a day you treasure:
"Spend time with guests before the big day if you can and only invite the most important people to you. We'd spent the week before with our guests so when our wedding day arrived, I didn't need to greet everyone, we just jumped straight into celebrating. It was so much fun and we laughed all night. Relax, and remember you're only going to do this once."
Would you like us to create images just like these as your Liopetro Cyprus wedding photographer? Get in touch – we'd love to hear about your wedding plans!